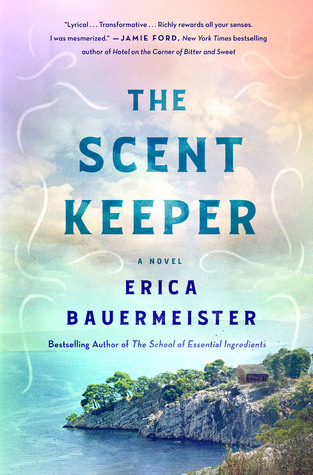 "Back before there was time, I lived with my father on an island, tucked away in an endless archipelago that reached up out of the cold salt water, hungry for air."
The Island is all Emmeline has ever known. Her father teaches her about magic and the world of scents and how they are tied so closely to our memories.
Since she was a small child she has believed in the magic of the island. How mysteriously things appear when they need them. The walls of small drawers in their little cabin full of tiny pieces of paper from the mysterious machine that can capture a memory with scent. She believes it all.
As she gets older and begins to question her father and his actions, she finds her own answers and feels betrayed and angry. When tragedy occurs, she is suddenly removed from her island and enters the real world. A world that is ugly and mean and one she wants no part of.
She sets out on her own to find who she is and why she is so different from other people and in doing so will find out about family, loyalty, and betrayal by the ones you love the most.
This may be the most beautiful piece of writing I have seen in a long time. I was left with a beautiful ending and had tears streaming down my face.
This is a must read!
NetGalley/ St.Martin's Press May 21, 2019
About the Author:
Erica Bauermeister is the author of the bestselling novel The School of Essential Ingredients, Joy for Beginners, and The Lost Art of Mixing. She is also the co-author of the non-fiction works, 500 Great Books by Women: A Reader's Guide and Let's Hear It For the Girls: 375 Great Books for Readers 2-14. She has a PhD in literature from the University of Washington, and has taught there and at Antioch University. She is a founding member of the Seattle7Writers and currently lives in Port Townsend, Washington.
I am doing a Giveaway for this book!  Comment below on the subject of scents! Will draw on Monday!
xxP