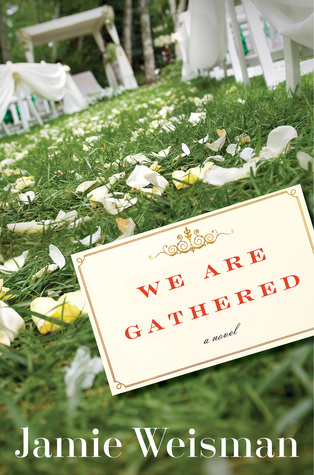 Humor and sorrow join together in Jamie Weisman's captivating debut novel—the story of an interfaith wedding from the perspectives of its (adoring, envious, resentful, hilarious) guests
One afternoon in Atlanta, Georgia. Two people heading to the altar. One hundred fifty guests. The bride, Elizabeth Gottlieb, proud graduate of the University of Virginia and of Emory University School of Law, member of Atlanta's wealthy Jewish elite. The groom, Hank Jackson, not a member. Not a Jew. The couple of the hour, however, is beside the point, because We Are Gathered belongs to the guests.
Among them, Carla, Elizabeth's quick-witted, ugly duckling childhood best friend turned Hollywood film scout, whose jaundiced view of the drama that is an American wedding provides a lens of humor and its corollary, deep compassion for the supporting actors who steal the show; Elizabeth's great-aunt Rachel, a Holocaust survivor from Germany who is still navigating a no-man's-land between cultures and identities decades after escaping from the forests of Europe; Elizabeth's wheelchair-bound grandfather Albert, who considers his legacy as a man, both in the boardroom and the bedroom; and Annette, the mother of the bride herself, reminded now of her youthful indiscretions in love and motherhood.
Balancing razor-sharp humor with a blunt vision of the fragility of our mortal bonds, Jamie Weisman skillfully constructs a world—and family—that pulls you in and carries you along with its refreshing, jagged beauty.
This is the blurb for the book.
I think there were only a couple of times that I actually could tell who was talking and what they were going on about. This was a very confusing book and I'm not sure where the plot was.
I liked the idea of the story but the execution left me eager to finish and still not understanding what the point was.
Netgalley/ June 5th 2018 by Houghton Mifflin Harcourt