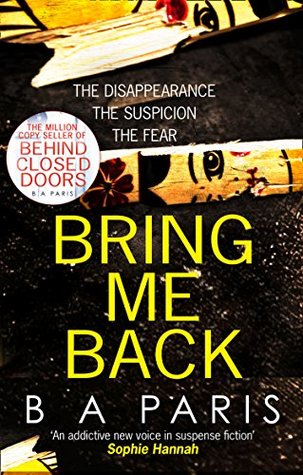 A young British couple are driving through France on holiday when they stop for gas. He runs in to pay, she stays in the car. When he returns her car door has been left open, but she's not inside. No one ever sees her again. 
Ten years later he's engaged to be married; he's happy, and his past is only a tiny part his life now. Until he comes home from work and finds his new wife-to-be is sitting on their sofa. She's turning something over in her fingers, holding it up to the light. Something that would have no worth to anyone else, something only he and she would know about because his wife is the sister of his missing first love.
As more and more questions are raised, their marriage becomes strained. Has his first love somehow come back to him after all this time? Or is the person who took her playing games with his mind?
My first issue with this book is that blurb above. That's not what happened. They stopped at a rest area to go to the bathroom, had an argument and when he came out of the toilet she was gone and there was only a small Russian nesting doll on the ground.
My first thoughts were this was going to be a kidnapping and probably something much worse. When Finn is allowed to leave France, he is lost. And confused. Where did Layla go? Is she alive or dead? As the years go by he keeps their cottage just in case and moves to a small village near by.
Move forward 10 years or so and he is living with and engaged to Ellen, Layla's sister. Then odd things begin to happen. Nesting dolls left or mailed to the house. Finn trying to keep them from Ellen and wondering if he is losing his mind or if Layla is really alive and playing with his head.
I kept yelling Danger! at him, but he wasn't listening and that ending was like, What??? Even though towards the end you kind of wondered if someone here was seriously disturbed, you weren't sure who it was until the very end.
At first I was going to give this a few stars, but then it just stayed with me for a couple of days and that for me is the sign of a good read!
NetGalley Reviews/ HQ