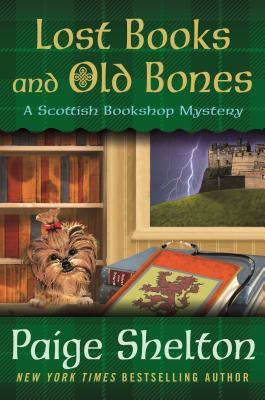 A delightful new mystery featuring bookseller and amateur sleuth Delaney Nichols, set in Edinburgh, Scotland.
Delaney Nichols, originally of Kansas but settling happily into her new life as a bookseller in Edinburgh, works at The Cracked Spine in the heart of town. She's recently befriended a few medical school students after they came into the shop to sell some antique medical tomes. But when one of the students' friends is found murdered outside in the alley, Delaney takes it upon herself to help bring the murderer to justice.
During her investigation, Delaney finds some old scalpels in the bookshop's warehouse—she finds out that they belonged to a long-dead doctor, whose story might be connected to the present-day murder. It's all Delaney can do to race to solve this crime before time runs out and she ends up in danger herself.
This is such a delightful series! This is the third I believe in the series with the lovely Delaney from Kansas. Working in The Cracked Spine bookshop selling rare and old books with a secret room with even more hidden treasure! It's a book lover's dream!
When a young lady she had met the night before is found murdered outside of the bookshop, Delaney's curious mind simply has to be involved!
This Cozy Mystery Series is full of history, intrigue and suspense and really lovely characters! The Scottish Bookshop Series is definitely in my top 5!
Netgalley/Minotaur   April 03, 2018