Thinking about what matters (Houghton Mifflin Harcourt)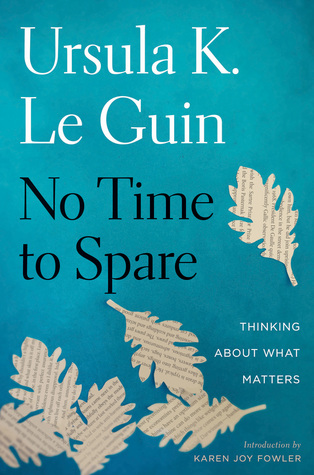 From acclaimed author Ursula K. Le Guin, and with an introduction by Karen Joy Fowler, a collection of thoughts—always adroit, often acerbic—on aging, belief, the state of literature, and the state of the nation.
Ursula K. Le Guin has taken readers to imaginary worlds for decades. Now she's in the last great frontier of life, old age, and exploring new literary territory: the blog, a forum where her voice—sharp, witty, as compassionate as it is critical—shines. No Time to Spare collects the best of Ursula's blog, presenting perfectly crystallized dispatches on what matters to her now, her concerns with this world, and her wonder at it.
On the absurdity of denying your age, she says, "If I'm ninety and believe I'm forty-five, I'm headed for a very bad time trying to get out of the bathtub." On cultural perceptions of fantasy: "The direction of escape is toward freedom. So what is 'escapism' an accusation of?" On her new cat: "He still won't sit on a lap…I don't know if he ever will. He just doesn't accept the lap hypothesis." On breakfast: "Eating an egg from the shell takes not only practice, but resolution, even courage, possibly willingness to commit crime." And on all that is unknown, all that we discover as we muddle through life: "How rich we are in knowledge, and in all that lies around us yet to learn. Billionaires, all of us."
If you are familiar with her blog then you have a head start. The book is easily read.
Each section talks about a topic and how that topic affects us. Such as Aging, The Literary World, And generally trying to make sense out of everything. Interrupted by sections on her cat Pard and his oddities.
It reads like a blog. And that is really what it is. All of her blog posts re-set in a book form. She is a very interesting lady and I laughed a lot during this book.
We will miss you greatly!
Netgalley/Houghton Mifflin Harcourt