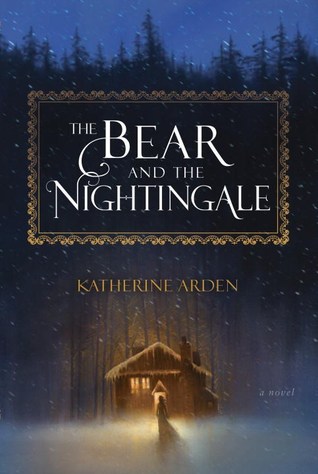 A young woman's family is threatened by forces both real and fantastical in this debut novel inspired by Russian fairy tales.
In a village at the edge of the wilderness of northern Russia, where the winds blow cold and the snow falls many months of the year, a stranger with piercing blue eyes presents a new father with a gift – a precious jewel on a delicate chain, intended for his young daughter. Uncertain of its meaning, Pytor hides the gift away and Vasya grows up a wild, willful girl, to the chagrin of her family. But when mysterious forces threaten the happiness of their village, Vasya discovers that, armed only with the necklace, she may be the only one who can keep the darkness at bay. Early Reviews on this one are so good I can't wait to get it!
   A dazzling debut novel from an exciting new voice, The Mothers is a surprising story about young love, a big secret in a small community—and the things that ultimately haunt us most. Set within a contemporary black community in Southern California, Brit Bennett's mesmerizing first novel is an emotionally perceptive story about community, love, and ambition. It begins with a secret.
"All good secrets have a taste before you tell them, and if we'd taken a moment to swish this one around our mouths, we might have noticed the sourness of an unripe secret, plucked too soon, stolen and passed around before its season."
It is the last season of high school life for Nadia Turner, a rebellious, grief-stricken, seventeen-year-old beauty. Mourning her own mother's recent suicide, she takes up with the local pastor's son. Luke Sheppard is twenty-one, a former football star whose injury has reduced him to waiting tables at a diner. They are young; it's not serious. But the pregnancy that results from this teen romance—and the subsequent cover-up—will have an impact that goes far beyond their youth. As Nadia hides her secret from everyone, including Aubrey, her God-fearing best friend, the years move quickly. Soon, Nadia, Luke, and Aubrey are full-fledged adults and still living in debt to the choices they made that one seaside summer, caught in a love triangle they must carefully maneuver, and dogged by the constant, nagging question: What if they had chosen differently? The possibilities of the road not taken are a relentless haunt.
In entrancing, lyrical prose, The Mothers asks whether a "what if" can be more powerful than an experience itself. If, as time passes, we must always live in servitude to the decisions of our younger selves, to the communities that have parented us, and to the decisions we make that shape our lives forever.
   A father from Chicago takes a road trip to the city of Whitehorse, in Yukon Territory, with his wife and son. During the car ride, they reveal to the boy their harrowing experience surviving a horrific plane crash in the wilderness ten years before, which is how the boy, in fact, came to be born.
Set amid the deep, wild woods of the Yukon, First Light tells the story of Daniel Albrecht and Kerry Egan, young lovers leaving a work trip in Alaska to plan their wedding back home in Chicago. Not long into their trip, both engines of their plane catch fire and send them careening into a mountainside in the middle of a terrible snowstorm. Kerry is seriously injured in the accident, and it soon becomes clear that search-and-rescue teams aren't going to find the survivors in time to save her. Daniel—the one person with survival experience amid the passengers—makes the courageous decision to find help and bring it back to the rest of the passengers, hoping against hope he might save the woman he loves. He leaves Kerry in the care of their coworker, Phil Velez, himself seriously injured in the crash, and takes off into the woods to find a town, a house with a telephone, a road. Something.
But Daniel's choices are made all the more difficult by the presence of his boss, a stubborn man more interested in results than taking care of people. Only one man will come out of their trek alive, but it still may not be in time to save Kerry and the others back at the crash site, slowly dying from their injuries.
As the parents' story draws to a close, the truth about the boy's life, and the identity of his father, will at last be revealed.
These are 3 I have earmarked for Fall, and maybe the following:
Thanks to the Publishers for these!