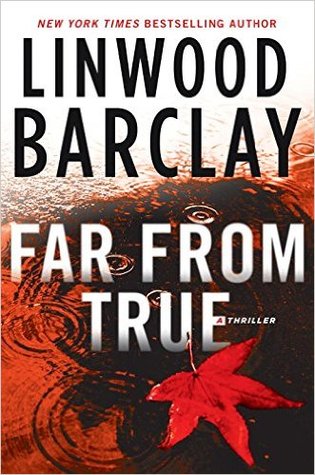 Far From True: A Promise Falls Novel by Linwood Barclay is the second in this series. The small town of Promise Falls seems so ordinary on the surface but in reality it is full of secrets.
When the screen at the local drive in explodes and falls killing four people, the daughter of one of the victims asks former cop and current P.I. Cal Weaver to look into a break in that happened at her father's home the same night he was killed at the drive in. What he finds could impact the lives of several of the town's citizens and in a juicy way!
Mr. Barclay is a genius at writing thrillers and this one does not disappoint! Reading one of his books is fun and challenging. Here are all  of this seemingly disconnected characters who in the end all come together in a way that leaves you saying, What??
The action starts on the first age and never lets up. There are so many sub-plots and sketchy characters that I gave up trying to figure out who did what and just went along for the ride!